Argo Aerospace in the footsteps of Leonardo da Vinci
The Prato-based start-up's project is among the 10 finalists for the prestigious "Leonardo Start-Up Prize 2017": the Argo O.S. drone operating system beat off competition from 500 other innovative ideas received by the event's organizers.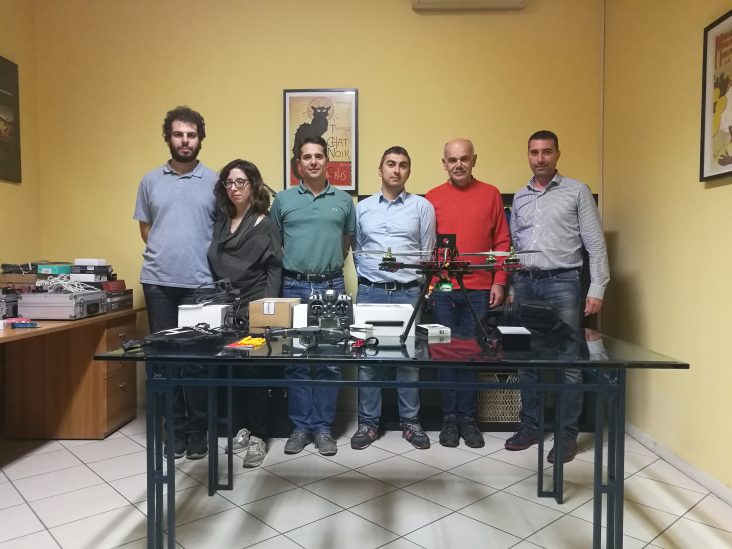 From left: Marco Papini, Gloria Gori, Guido Falsi, Marco Spennato, Prof. Ing. Alessandro Fantechi, Francesco Garbin Guarducci
Leonardo da Vinci was among the first men to devise effective flying devices. On his studies and insights is based much of modern aviation, including remotely piloted aircraft (A.P.R.), the so-called drones.
And just one project concerning drones has been selected among the 10 finalists of the prestigious "Leonardo Start-Up Prize 2017": Argo O.S. by Prato-based start-up Argo Aerospace. An innovative operating system that promises to revolutionize the world of drones by making them accessible to everyone.
Argo Aerospace was born only in September 2016, but it has already won numerous regional and national awards, including the Impresa Campus UNIFI 2016 Award, an initiative promoted by the University of Florence reserved for new entrepreneurial idaees, inclusion in the list of 10 finalists at the Startcup Toscana 2016 Award, the antechamber of the national "Gaetano Marzotto" award for technological innovation in which it ranked among the 35 winning projects. Last month, moreover, the Argo O.S. project was selected by the "Friuli Innovazione" incubator, winning a prize that includes a one-year incubation within its Udine facilities.
Just in the past few days yet another recognition arrived for this Prato-based startup: its innovative operating system for remotely piloted aircraft beat off competition from more than 500 projects from all over Italy and is among the finalists for the "Leonardo Start-Up Prize 2017," promoted by the Leonardo Italian Quality Committee in consultation with the Ministry of Economic Development. The winner will be announced early next year.
"We are extremely proud to participate in the final stage of this award," said Project Team Leader Francesco Garbin Guarducci, "as it is one of the most important events in our country for technological innovation".
What, however, is Argo O.S.? According to its inventors, it is an operating system that will allow drones to make an evolutionary leap, like the one we witnessed about 10 years ago in the mobile phone industry with the transition from the "simple" cell phone to the smartphone. Not only that, the Prato-based start-up aims to make remotely piloted model aircraft technology affordable for everyone, making simple what is complex today and feasible what is unfeasible today.